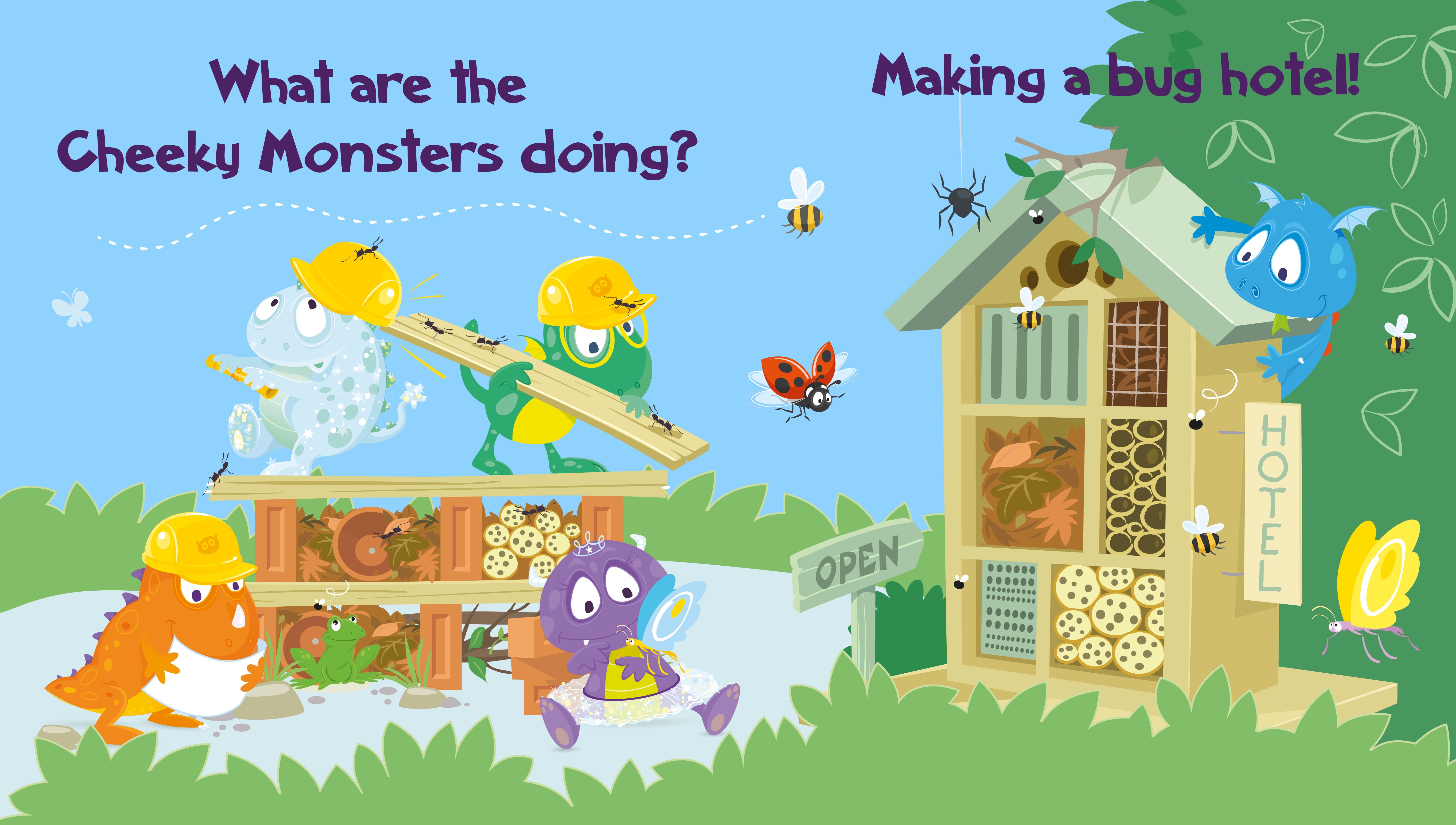 It's almost time for the first half term holiday of 2022!
We all know how unpredictable the UK weather can be, especially in February. With blustery weather outside we have you covered with some great ways to keep those energetic Cheeky Monsters occupied at home.
With all of our activities themed around "Create, Learn, Play" there is something here for everyone to enjoy! Here are five fun tips to keeping your little ones occupied this Feb! 👇
Make your own sparkly play dough with Cheeky Monster Glitter! We have a super easy, super fun way for you to make your own play dough at home, and because this is Glitter's recipe for play dough, it involves adding lots sparkle! Cheeky Monster Glitter likes to make the play dough blue, but you can use any food colouring you like to make this play dough in your little ones favorite colour. Click here to read more, and to watch our easy-to-follow activity video.
Build a bug hotel with Cheeky Monster Spike! Invite the wildlife into your back garden and build your very own bug hotel – just like Cheeky Monster Spike from his storybook "Spike the Expert Explorer"! We all need to protect our wildlife, especially in the winter, so February half term is the perfect time to build your bug hotel. You could even go on a bug hunt to find out what creepy crawlies live near you! Find out how to build your very own bug hotel by clicking here.
Make a lantern with Cheeky Monster Violet! The Cheeky Monsters absolutely love recycling and reusing, to help the environment. We have a great way of using an old milk bottle – turn it into a gorgeous lantern, inspired by Cheeky Monster Violet! Click here to find out how, and watch our YouTube video if you need a bit more help!
Do some biscuit decorating with Cheeky Monster Rocky! This activity is perfect for those rainy February days, you can have loads of fun, and be creative, while staying warm and dry at home (plus you have a yummy treat to eat at the end of it)! We have a handy guide on biscuit decorating here – we just love how bright and colourful Rocky's biscuits are, you could decorate yours the same colour as your favouite cheeky monster!
Colouring in with Cheeky Monster Drago! Download your free colouring in sheets by clicking here. There are lots to choose from! For Drago, you will need colouring pencils or pens that are yellow, light green, dark green and blue. Don't forget to stay inside the lines!
We've listed our favouite five above, but if you're looking for more, don't forget to check our My Cheeky Monsters website for lots more ideas, and subscribe to our My Cheeky Monsters YouTube channel!
Enjoy February half term!
Don't forget to follow us on socials @MyCheekyMonsters and use the #MyCheekyMonsters so we can see all of the fun you get up to this February.